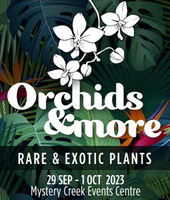 Come And See Us At Orchids & More!
Orchids & More includes the 10th National Orchid Expo (a triennial event) with displays coming from around New Zealand.
Some of NZ's top orchid & house plant vendors will be in attendance with sales stands for plants of all kinds and growing accessories, as well as talks and demonstrations.
Its the perfect weekend out to come and see some AMAZING orchids & house plants, perfect for those of all ages & growing abilities
Entry is $10 at the door.
We will be taking our full stall with 90% of our product range, it's an event not to be missed!

Newest Arrivals!
We are always adding new products to our plant care range. Check them all out below!

Check Out Our Youtube Channel!
Customer Reviews
Fantastic service and a great range of products available. I put through a big order as a first time customer and was really happy with how well packaged and fast the parcel arrived. Good price range and informative as Rachel makes her own YT videos about the products on GrowingGreen. Will definitely shop again in the future!
Rachel by far has a great little business for plant lovers! So glad to see videos and updates with the best plant advice and products that helps you keep up to date with new things. Also, super fast ordering times and friendly service! 100% recommend GrowingGreen ! 🥰 I would recommend the sansi grow lights 💡 and clear pots.
Absolutely love the new grow lights I brought over a month ago, had to buy more plus some goodies. Highly recommend, product quality is amazing and prices are good too Plus the customer service is also exceptional, helped me out instantly 💕